Our featured company is called AutonomicDysfunction.com. Autonomicdysfunction.com is a new platform providing information for physicians & medical professionals about autonomic nervous system (ANS) & sudomotor testing.  The autonomic nervous system (ANS) communicates with the brain sending signals via nerves to regulate heart rate, blood pressure, vasomotor function & peripheral arterial pressures. Autonomic dysfunction (over time) is known to lead to cardiac arrhythmias, resting tachycardia and other electrical instabilities. Further, these electrical instabilities can result in mechanical dysfunction in the heart.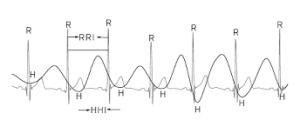 ANS testing is a useful tool for cardiovascular clinicians because both branches of the autonomic nervous system initiate the electrical and the mechanical functions of the heart. ANS testing is measured by monitoring Heart Rate Variability (HRV) which closely monitors the variation of time in between each heart beat. Heart Rate Variablity (HRV) monitoring is a complex method of utilizing low & high frequencies to assess the hearts ability to increase or decrease when needed.  Clinical Studies over the last 25 years have linked low HRV with increased risk of adverse cardiovascular events and even mortality from sudden death.
ANS testing with AutonomicDysfunction.com is unique compared to other methods of measuring the autonomic nervous system because it combines heart rate variability (HRV), beat by beat blood pressure as well as sudomotor function into one study. Sudomotor (sweat) testing has been proven to be cost effective and accurate method of assessing the autonomic nerves that innervate the hands and feet. Sudomotor function is a quick and painless test to assess the severity and distribution of autonomic neuropathy which often starts in the most distal parts of the body and spreads proximal.  Sudomotor testing with heart rate variability is (arguably) one of the most powerful diagnostic tools for assessing cardiac autonomic neuropathy which represents one of the greatest risk factors of sudden cardiac death.
Summary of Information from ANS testing include:
Heart Rate Variability

Sympathetic activity / response
Parasympathetic activity / response

Autonomic balance
Microvascular circulation
Arterial stiffness
Systemic vascular resistance
Stroke volume
Cardiac output
Pre-Ejection Period
Acceleration Index
Endothelial function
Inflammation
Identify severity & distribution of various forms of neuropathy such as peripheral neuropathy & cardiac autonomic neuropathy (CAN)
Recommended Use of Autonomic Nervous System (ANS) Testing:
Autonomic disorders in patients with diabetes & cardiovascular disease
Blood pressure disorders
Resting tachycardia
Postural Tachycardia Syndrome (POTS)
Neurocardiogenic syncope
Dosing of beta blocker therapy
Assess patient response to various drug therapies
Cardiac Autonomic Neuropathy (CAN)
Diabetic Autonomic Neuropathy
Peripheral Neuropathy
Monitor disease progression
Assess patient response to therapy
ANS testing is a simple 7 minute test with no supply or disposable costs. The national average reimbursement is approximately $300 per study from Medicare. For more information, please visit the website www.AutonomicDysfunction.com or email sales@anstesting.com
Sponsored Ad