ReactDx TelePatch Holter Monitor
ReactDx offers their TelePatch Holter Monitor for continuous Holter monitoring. ReactDx (formerly Medicomp) has a long history in the AECG monitoring space with many generations of Holter Monitors and now offers their newest model called the ReactDx TelePatch.
The ReactDx TelePatch is a continuous monitor that can perform traditional 24 hour Holter monitoring as well as long term continuous AECG (extended Holter) for periods up to 14 days. The TelePatch Holter Monitor connects to a wearable patch with 2 vectors of ambulatory ECG data.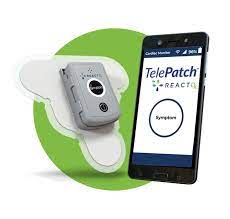 Features of the ReactDx TelePatch:
24 hour Holter Monitoring mode.
Extended Holter for 7 – 14 days of continuous AECG monitoring
Small wearable patch for multiple Holter Monitoring applications
2 channels (vectors) of Holter monitoring data
The TelePatch Holter Monitor module is re-usable and connects to disposable adhesive patch
Competitive structures for billing & ECG analysis
24 / 7 / 365 monitoring to ReactDx ECG laboratory
Download Free Holter Monitor Comparison