Philips MCOT™ Patch
Philips Healthcare has acquired the pioneer BioTelemetry (CardioNet) of mobile cardiac telemetry (MCT) monitoring world. Philips is the current market leader in the US with several versions of the MCOT™ device. The newest version seen is the MCOT Patch.
The MCOT Patch combines the technology of its previous monitor version which analyzes and transmits ECG data to the Philips Laboratory for analysis.
MCOT Patch Device Features: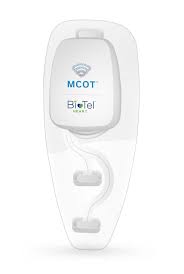 Automatic (near) real-time transmission of ECG 24 / 7 /365
Smaller, lighter weight device improves patient compliance
Flexible applications enable single channel & 2 channel analysis
Patient event button to report symptomatic episodes
Auto detect feature on board captures asymptomatic irregular ECG
Proprietary ECG algorithm detects BPM, rhythm type, and waveform morphology.