ScottCare novi Patch Holter Monitor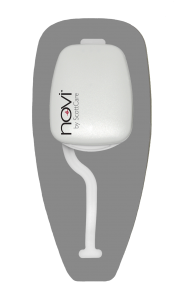 The 2014 introduction of ScottCare's novi provided customers with some of the newest Holter technology available. The product is marketed as being small, simple and advanced. It's ideal for encouraging patient compliance, weighing just half an ounce, is water-resistant, and attaches to the sternum with a single patch electrode requiring no lead wires. Because the unit adheres to the body, which minimizes motion artifact, it provides cleaner ECG quality resulting in more accurate analysis. ScottCare also claims the unit is easy to program.
Competitive Advantage in Holter Monitoring
The novi is the newest addition to ScottCare's long-standing traditional Chroma Holter monitor, providing customers with an alternative depending on patient population. ScottCare markets their suite of products and services as being a comprehensive solution that integrates a variety of ambulatory cardiac monitoring modalities under one platform, including optional EHR integration. ScottCare aims to provide their cardiac monitoring customers with a multi-function cardiovascular suite for seamless integration of their devices, software analysis and information technology.
Like the Chroma, the novi is compatible with ScottCare's HolterCare™ software, which has many useful features to assist in accurate diagnostic analysis of the recorded Holter Monitoring. HolterCare's automated analysis takes just 60 seconds to download and analyze a 24-hour patient. The software uses multi-level template interactive trend and morphology editing, as well as superimposition and individual page mode review. The software is available as a standalone or networked system.
The novi patch Holter recorder integrates into ScottCare's comprehensive diagnostic & management solution called the CardioView Dx™.