Heartrak Smart Looping Event Monitor
The Heartrak Smart Looping Cardiac Event Monitor is one of the more popular looping event monitors in the market. Mednet has established a very good name for manufacturing reliable and easy to use cardiac event monitors. The devices are small, lightweight with varying programmable functions to meet the needs of the cardiovascular clinician.
Features of the Heartrak Smart Loop Memory Cardiac Event Recorder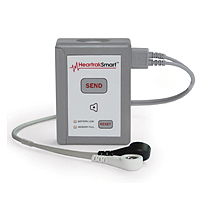 Simple, recessed Record Button  for easy capture of patient symptoms
Memory Capacity Up To 21 Minutes of cardiac event ECG information
Good battery life – One double AA battery can last for up to 30 days
Eight Programable recording options
Reset Button clears device memory

only

after the patient has sent stored ECG's.