ER920W Wireless Event Monitor
The ER920W is a cardiac event monitor with advanced diagnostic algorithms designed to automatically detect, capture and send asymptomatic events including Atrial Fibrillation, Bradycardia, Tachycardia and Cardiac Pause. Further, this wireless device patients with the option to manually record and transmit ECG data via a land telephone line.
Features of the ER920W Wireless Event Monitor: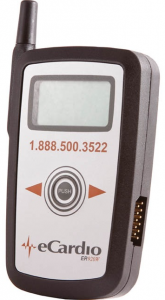 A single-component system, for patient convenience, comfort and ease of use.
Automated transmissions, eliminating the need for patients to transmit data over the phone, enhancing patient compliance.
Extended battery life, with no battery charger required for continued monitoring.
Flexible technology, allowing bidirectional data flow and enabling physicians to remotely program the device while being worn by the patient.
INDICATIONS FOR USE
The monitor is indicated for diagnostic evaluation of patients who experience transient symptoms such as palpitations or syncope. It is intended to record cardiac activity associated with these infrequent and transient symptoms