eCardio Post-Event Recorder
Moving Arrhythmia Diagnosis to New Heights The Post-Event Recorder is a lightweight, transtelephonic cardiac event monitor designed to document post-symptomatic cardiac activity. The monitor is designed for easy patient operation.
The Post-Event Recorder offers: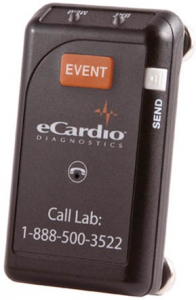 Single-button operation for the manual record-ing of symptomatic events.
Lightweight, ergonomic features designed for improved signal quality and enhance patient compliance.
Programmable memory nodes, advanced baseline correction and an auto-erase option.
Extended battery life, designed to last the duration of service, with more than 500 recordings and transmissions on a single battery
INDICATIONS FOR USE
The monitor is indicated for diagnostic evaluation of patients who experience transient symptoms such as palpitations or syncope. It is intended to record cardiac activity associated with these infrequent and transient symptoms.