Looping Multi-Event Monitor
This is CardioNet's most widely used event monitor, and is a favorite of doctors and patients alike for its ease-of-use. The monitor is patient activated and can be set to record from 1-6 events, depending on the desired length of the recording. The term "looping" refers to the memory of the monitor, which means that when activated, the monitor can save the previous 60 seconds of data stored in the memory loop.
The CardioNet looping Event Monitor is designed to increase diagnostic yield for transient symptoms suggestive of a cardiac arrhythmia. The Loop monitor can be programmed to store up to six events totaling 522 seconds of ECG before it is necessary to transmit the information. When convenient, the patient can send the stored ECGs by telephone, from anywhere in the world, directly to the CardioNet event monitoring center.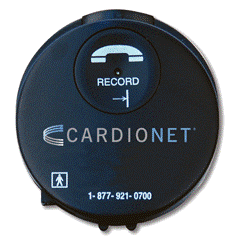 Holds 6 recordings 60 seconds pre-event & 30 seconds post-event
Transmits each 90 second recorded event in 22 seconds
No need to remove cable in order to transmit
Up to 45 days of battery life