Company Spotlight – CORE¹² Multi-Function Cardiac Monitor from ACS Diagnostics
ACS Diagnostics is proud to introduce the release of its newest technology among their line of ambulatory cardiac monitors called the CORE¹² (Cardiac Outpatient Real-Time ECG).  The CORE¹² has experienced great success in its reception to the US marketplace since its release in the fourth quarter of 2016.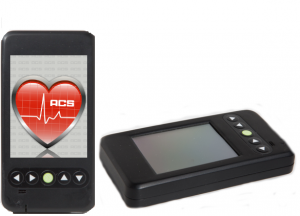 According to ACS, the CORE¹² is one of a kind in that it is the only device in the US with FDA regulatory approvals to provide virtually all forms of ECG monitoring integrated into one device.  The ACS CORE¹² is capable of performing a resting 12-Lead EKG, 24 hour Holter monitoring, up to 30 days of long term continuous ECG monitoring (recording every beat), cardiac event monitoring & mobile cardiac telemetry (MCT) monitoring.
ACS envisions their revolutionary technology to simplify all forms of ECG monitoring for physicians & medical professionals by integrating all ECG modalities into one platform with one device. This can serve as a unique concept for large medical facilities (such as hospitals or multi specialty groups) to centralize & streamline all diagnostic ECG studies that are performed across all specialties and from any location. By centralizing all of the ECG data, the CORE¹² platform creates a more efficient referral structure to the cardiology specialist as it can be configured so that all 12 Lead EKG (and ambulatory) studies performed anywhere in the medical system to be reviewed by a cardiologist or cardiovascular specialist.
In addition, the CORE¹² receiving software platform will enable medical facilities to provide a 24 hour telemedicine suite in which they can manage and bill for all forms of outpatient ECG monitoring. This is a novel concept for many facilities with the interest to create their own centralized monitoring platform rather than outsourcing these services to outside cardiac monitoring service companies.
ACS Diagnostics is a Medicare approved Independent Diagnostic Testing Facility (IDTF) where it currently offers ambulatory cardiac monitoring services such as Holter monitoring, long term Holter monitoring, cardiac event monitoring and mobile cardiac telemetry (MCT) monitoring services. With such a long tenure in the cardiac monitoring space, ACS touts their flexibility in offering a variety of monitoring structures to best suit the needs & interest of physicians & medical facilities.
When it comes to long term diagnostic ECG testing such as long term continuous ECG monitoring (long term Holter) or mobile cardiac telemetry (MCT) monitoring, ACS claims to offer a far superior monitoring method in that their platform delivers the flexibility to review every beat by a certified cardiovascular technician. According to ACS, too many cardiac monitoring service companies rely on the algorithm in the box to make all clinical decisions as to what is normal or abnormal ECG activity.  Although the ACS CORE¹² also has an on-board algorithm, they believe nothing can replace the eye of a certified ECG technician. With ACS Diagnostics, all of the raw full disclosure ECG data is transmitted to the ACS Diagnostic laboratory upon the detection of an abnormal event or every hour should no abnormal event be detected. ACS goes the extra mile to instill confidence for their referring physicians that all ECG data is reviewed to ensure nothing significant will not go undetected.
ACS Diagnostics is a wholly owned subsidiary of Applied Cardiac Systems Inc. which has a long standing history of providing cardiovascular specialists & medical facilities with high quality outpatient cardiac monitoring technologies.  For more information or a free trial, email internetsales@appliedcardiacsystems.com.
For more information about how your company can be featured in our Company Spotlight, please email us at sales@cardiacmonitoring.com.